We meet Mazda fans from across the world to showcase their incredible photography and share their adventures both on and off road.
3 minute read
Every driver behind the wheel of a Mazda SUV knows first-hand the experience of joyful driving. If you want to share pictures of you and your Mazda, tag them #MazdaStories or tell us your stories here.
Juancho Calayan | Philippines | Mazda CX‑30
I've always driven Mazda cars. My first Mazda was the Mazda 323, which I bought in 1997, and since then I've owned a Mazda3, an MX‑5 ND, which is my Sunday car, and of course the Mazda CX‑30. I bought it when the pandemic began so I've only managed to take short road trips because of travel restrictions. So far, my partner and I have taken a five-hour trip east of Manila to a quaint surfing town called Baler, but I'd love to drive to the island of Mindoro where my father was born. I'd take a week off work to drive on a 450 km loop around it, go free diving at Apo Reef Natural Park and visit my relatives who I haven't seen for over a year.
---
Jeriko Pablo | Canada | Mazda CX‑3
I live in northern Canada where we have short summer months and extreme winter temperatures, so driving is an almost essential part of daily life. The CX‑3 is my first car and I love its handling and power on the road, whether it's on rough, smooth, or icy terrain. In May 2020 I decided to embark on the longest journey of my life, driving almost 5,000 km across five provinces in Canada. I drove over five days in three different time zones from Toronto, Ontario to Yellowknife, Northwest Territories. Yellowknife is one of the best places in the world to see the Northern Lights, and I've spent many nights on the ice roads there hunting them!
---
Kelly Roeleveld | Netherlands | Mazda CX‑30
I love the freedom of driving. From touring the Austrian mountains in a CX‑3 to visiting ski resorts in a CX‑5 with my snowboard in the trunk, Mazda has made many adventures possible for me. Last year I went on a road trip with a CX‑30, starting in Germany and then driving through Austria, and on to the Dolomites in Italy. These photos were taken in Alta Badia overlooking the mountains and it was such a special moment for me. What surprised me most about the CX‑30 was the space. I wasn't planning on sleeping in my car during my road trip, but as most nights were wet and cold I didn't feel like staying in a tent!
---
"I admire the way that Mazda designs cars with human touch and clay models."

FATIH KAHVECIOGLU
Fatih Kahvecioglu | Turkey | Mazda CX‑5
I'm a physiatrist and chief medical officer in a private hospital. Because of COVID I haven't had much time for driving. But when I do, I love listening to Mark Knopfler and Eric Clapton on the Bose sound system. It's therapeutic! The longest trip I've taken with my CX‑5 was to Antalya, which is a beautiful holiday city on the Turkish Riviera. The above photo was taken in Tralles—a 3,000-year-old ancient city located in the mountains of my hometown.
---
Scott Osborn | USA | Mazda CX‑5
As a photographer, when I'm driving it usually means that I'm heading out on an adventure. So far, I've driven over 160,000 km in my CX‑5 and I've taken between 50 and 75 road trips. It's important that my car can handle off-roading to get me to those hidden gems, and I need to fit in my camping gear, photography equipment and more. My favourite thing about driving is that you can see so many new places, while enjoying the security and comfort that the car provides as a home away from home.
---
Mekensi Mace | Australia | Mazda CX‑5
I grew up on a cattle property 25,000 acres in size, just north of Central Queensland. The CX‑5 has fantastic fuel range, which comes in handy whenever I make the 800 km trip home from Townsville where I live now. My car is required to tackle around 40 km of outback tracks and off-roading just to get there! Safety is of the utmost importance to me, and Mazda offered the best protection that I could find. If you ask me in ten years whether I'm still driving Mazda cars, then the answer will be yes!
---
Ylenia Vassere | Italy | Mazda CX‑30
What I like about Mazda is its Kodo design philosophy and innovative technology. My CX‑30 has the e‑Skyactiv X engine, which is responsive and fuel efficient thanks to its energy recovery system. My husband and I live in a beautiful town within the Dolomites (in north-eastern Italy), and often the roads are covered with ice and snow. But the CX‑30's all-wheel drive allows you to drive safely in all conditions, even on those hairpin turns! These photographs were taken on the Duran Pass in the Dolomites, close to Cortina d'Ampezzo, which will host the 2026 Winter Olympic Games.
---
Dodge Lecciones | New Zealand | Mazda CX‑30
Driving gives me a sense of control and independence. I live in Auckland and often drive to the Waitakere Ranges to hike, chase waterfalls and de-stress from work. My CX‑30 is the first car that I ever thought to take a photograph of, because I love how it shows off wavy reflections against the beautiful landscape. There are countless amazing things about the CX‑30, but my favourite has to be its sleek design.
---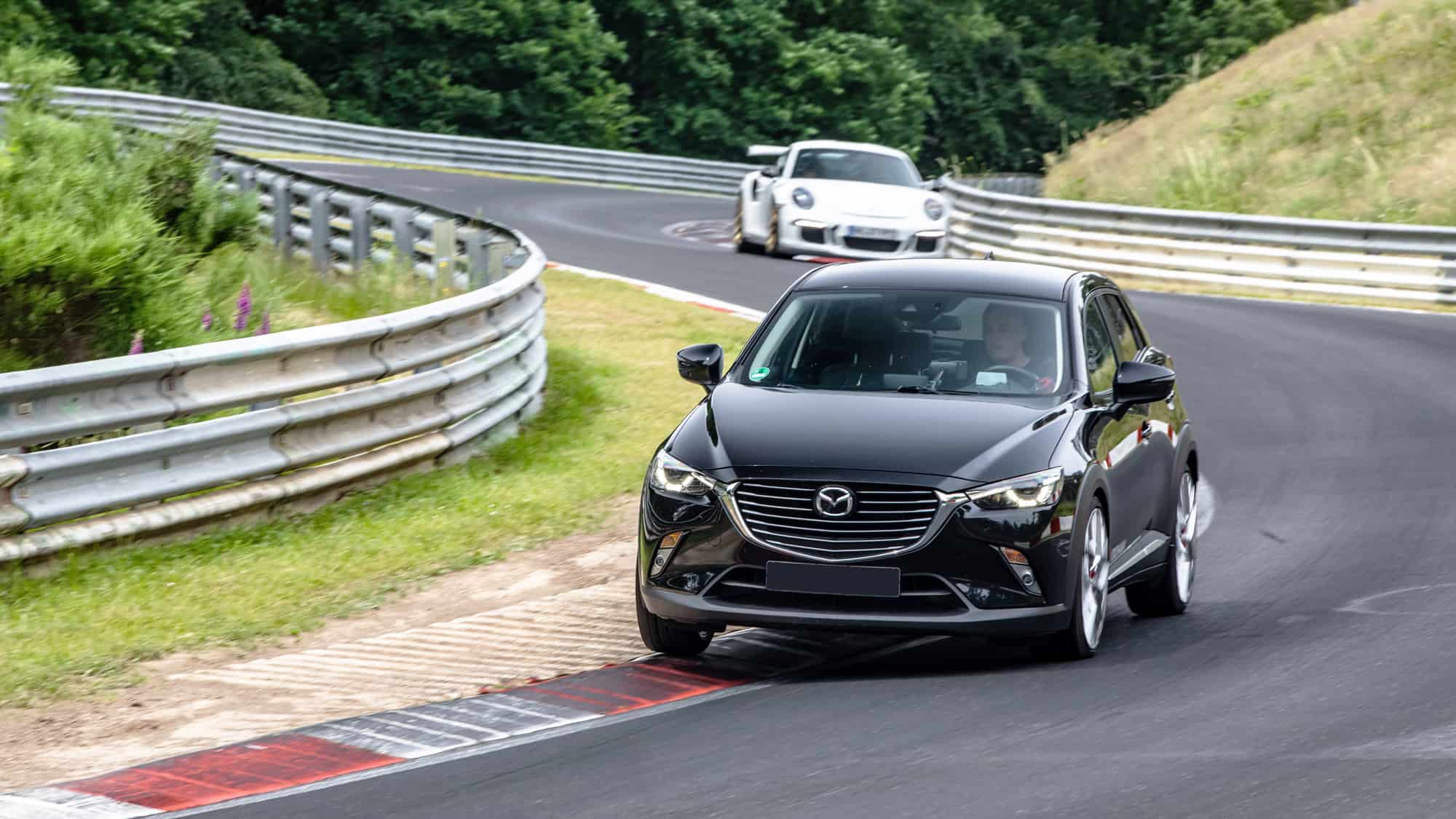 Aaron Wagner | Germany | Mazda CX‑3
Mazda has an incredible history—the RX‑7 remains an iconic car to this day! My fiancée Sarah bought me our CX‑3 when we were just friends, and now it'll be our marriage wagon later this year. I love cruising along Germany's autobahn and country roads but my favourite place to drive is the famous Nürburgring Nordschleife track. It's one of the most dangerous routes in the world—people wouldn't believe that a mini-SUV can be that fast around corners. But the CX‑3 works just as well on the road as it does on the racetracks!
---
---
tell us your story
Love Mazda?
We want to hear from you. Tag your pictures #MazdaStories. Or tell us about your adventures in your Mazda.