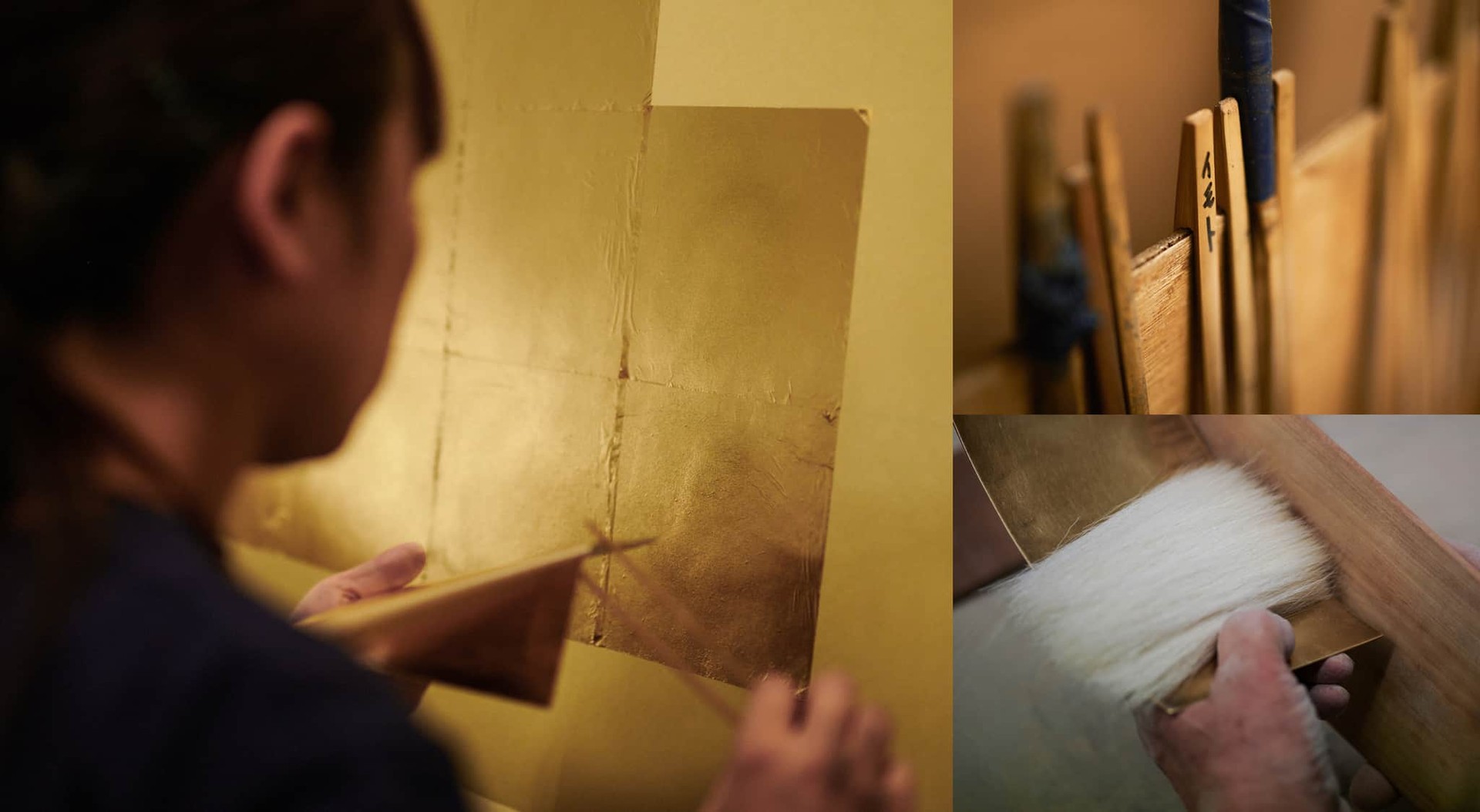 Hiroshima: city of craftsmanship
Mazda Stories sent Japanophile Steve Beimel to meet some of the craftsmen and women in Mazda's hometown, Hiroshima.
5 minute read
Though fine craft traditions exist around the world, there may be no country that exceeds Japan in the sheer number and depth of master-level disciplines, truly rarefied expressions of the human spirit that have been refined over many years. I have chosen to interview people involved in four crafts in Hiroshima's illustrious craft community: ceramics, brush making, metal leaf artisanship and master tool and die making at Mazda. Each of these people exemplifies a fervor-like commitment to craftsmanship through trial and error. Let us examine their products, see their contrasting approaches to training and hear their thoughts about the continuation of their craft in the future.
Rekiseisha: the alchemists
I hear a warm "Welcome to Rekiseisha!" as I walk into the central Hiroshima company which has, for the past century, been creating dazzling metal leaf-covered paper works. Beginning as a sword dealer 400 years ago, Rekiseisha entered Japan's refined craft world when swords were outlawed in 1876.
"Through much trial and error," explains creative director Kazuyuki Kanetsuki, "we developed both discoloration-resistant brass leaf as a gold substitute and a process for affixing leaf to paper." This reduced costs while expanding the market. Today, Rekiseisha produces ten kinds of leaf paper—including gold, platinum, brass, and pewter—in about 1,300 designs, and its products are sought for uses such as large and small-scale interior wall coverings.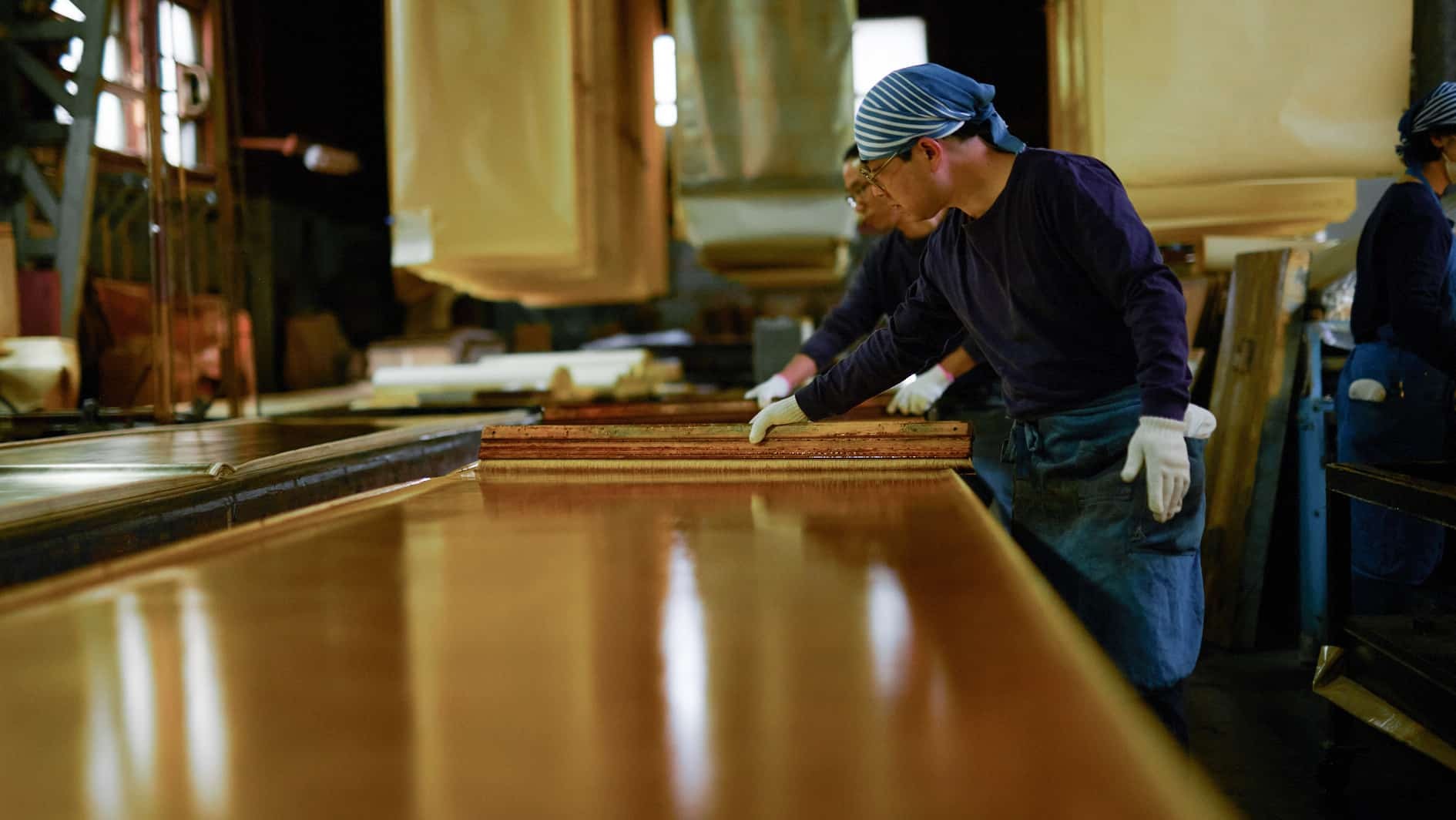 ""It takes about ten years to become a master of metal leaf—one who can discern subtle levels of quality."

Kazuyuki Kanetsuki
Kanetsuki, himself the son of a Rekiseisha artisan, was drawn here by his father's passion for his work. "I naturally wanted to work at Rekiseisha. I grew up seeing decorative leaf work at home and was inspired by my father, who was so happy and fulfilled by his work here."
Kanetsuki rose to his position after six years of training and work experience, and he explains how on-the-job training allows employees to specialize in one of three departments: leaf applying, application of adhesives and coatings, or product finishing. True mastery takes 18 months to ten years, and Kanetsuki tells me this training system is something they "hope to pass down for generations to come."
"Rekiseisha is committed to keeping our product line and production methods evolving in order to accommodate ever-changing markets. As for me," adds Kanetsuki, "I hope that my love for this work will be an inspiration to my own son, someday."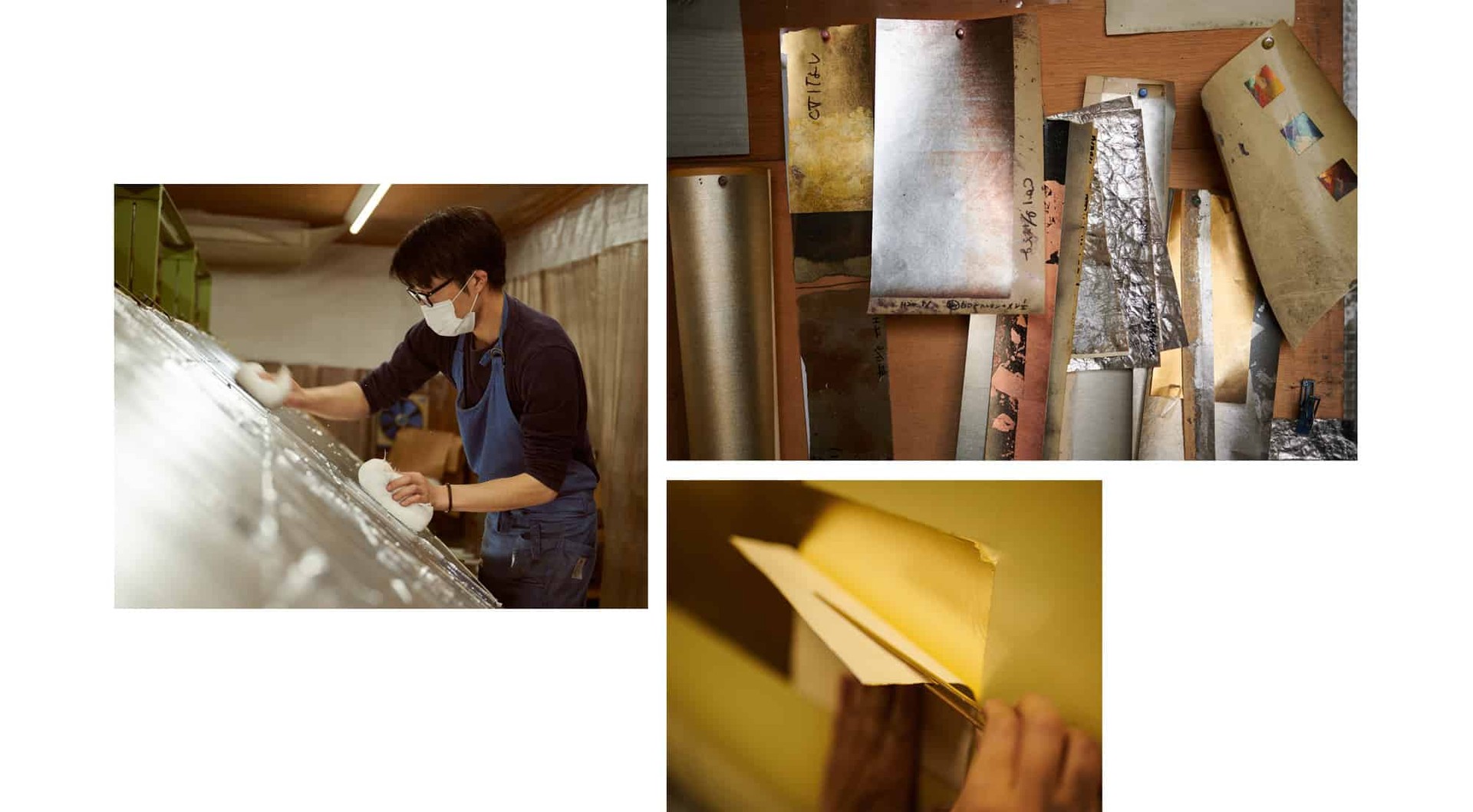 Rekiseisha's Ancient Silk line combines metal leaf and traditional Japanese washi paper with an irregular pattern of silk, creating a soft and richly textured surface. The craft requires high focus, patience, and sensitivity. Gold leaf decoration was first seen in the homes of upper-class samurai in Japan around the year 1600.
---
Kumano brushes: a gentle touch
In the brush-making town of Kumano in the Hiroshima Prefecture, 2,000 people produce 80 per cent of the Japanese brushes used for ink painting, calligraphy, and cosmetics. Working at home or in small shops, these artisans make hundreds of brush types ranging in price from a few dollars to $5,000.
My first stop in Kumano is Houkodou. Tomoko Ihara, the president of the 121-year-old company, tells me her father was a Mazda engineer before entering the family business. "He felt the same spirit of craftsmanship working with both cars and brushes."
Lead Houkodou brush maker Suikou Kagawa has 40 years' experience, and says that, like her mother before her, she was trained on the job. Becoming a master brush maker takes at least ten years and at Houkodou, "we learn all 70 steps by simply watching and imitating."
"Very little is taught by the spoken word. By physically doing, we learn through our bodies."

Suikou Kagawa
I next visit Chikuhodo, a producer of brushes for make-up artists and cosmetic companies. There I learn how uneven, natural brush tips hold make-up, offering a gentle touch while creating a superb finish. Brush maker Tamae Suenaga has spent 18 years perfecting her craft and developing "a natural feel for working with hair."
Yet because markets and cosmetic products are ever-changing, she still strives to improve. "We continually create new variations of brushes to accommodate cosmetic products coming on the market. My challenge is to grow my skills as brushes evolve."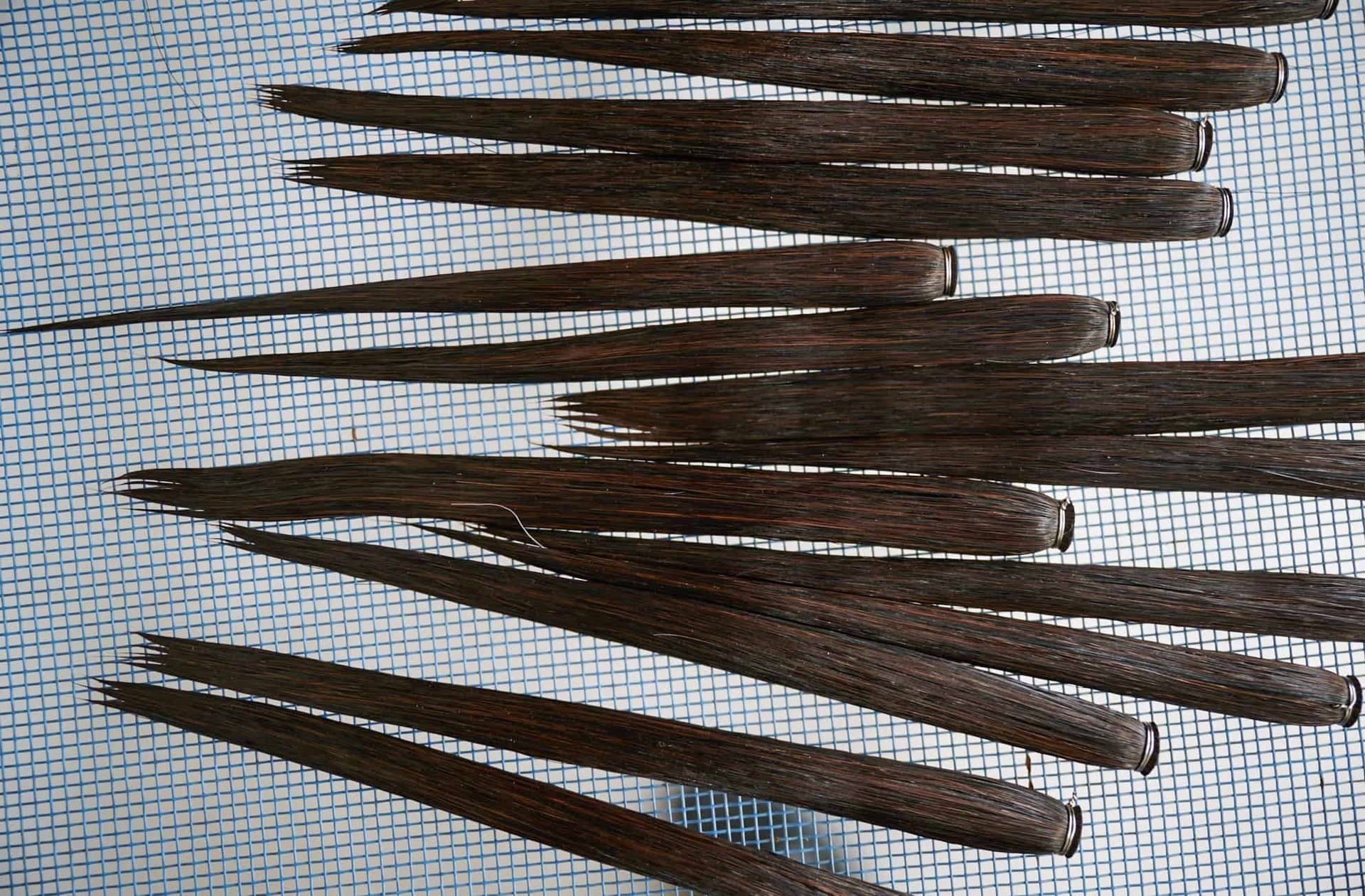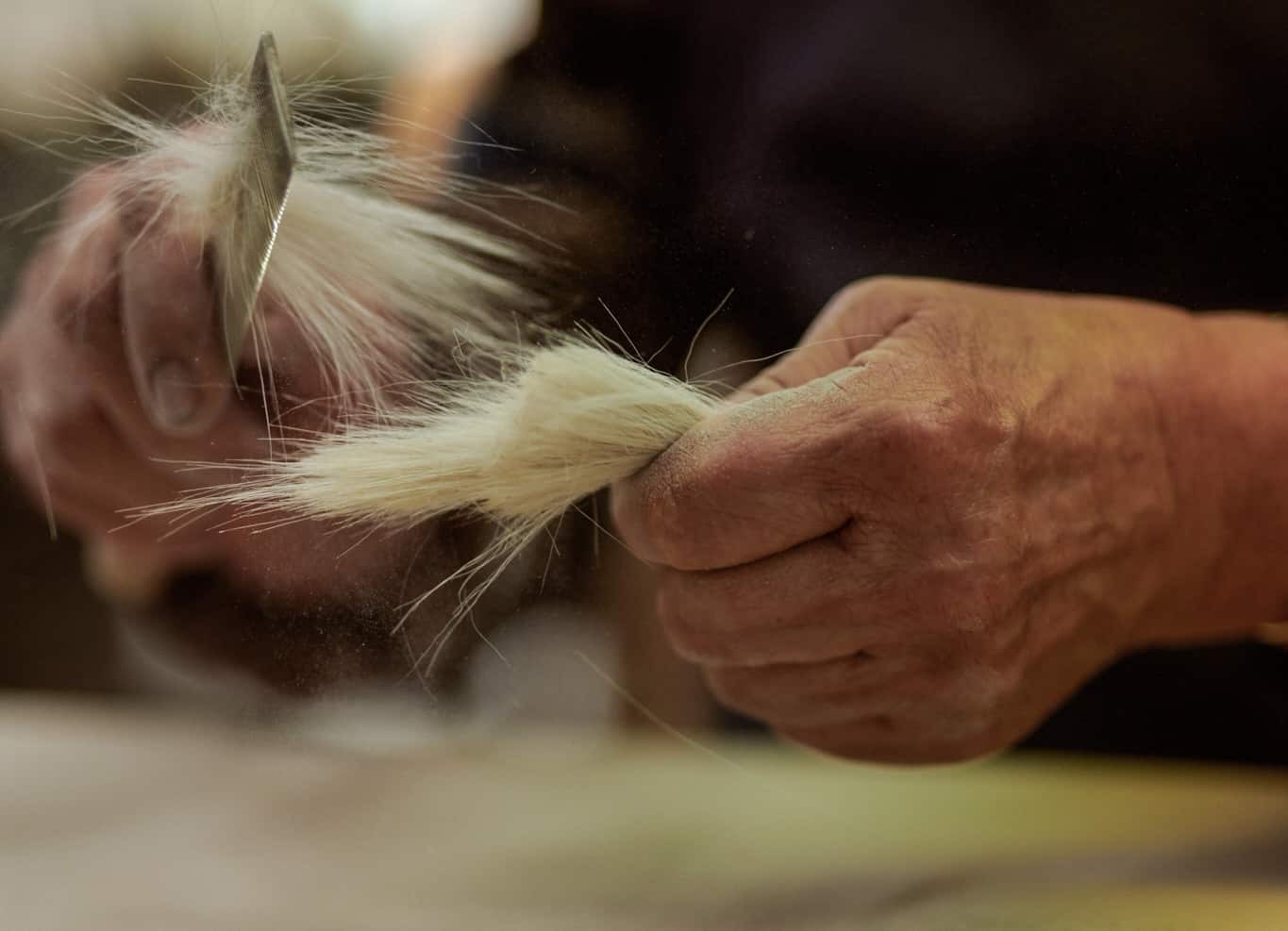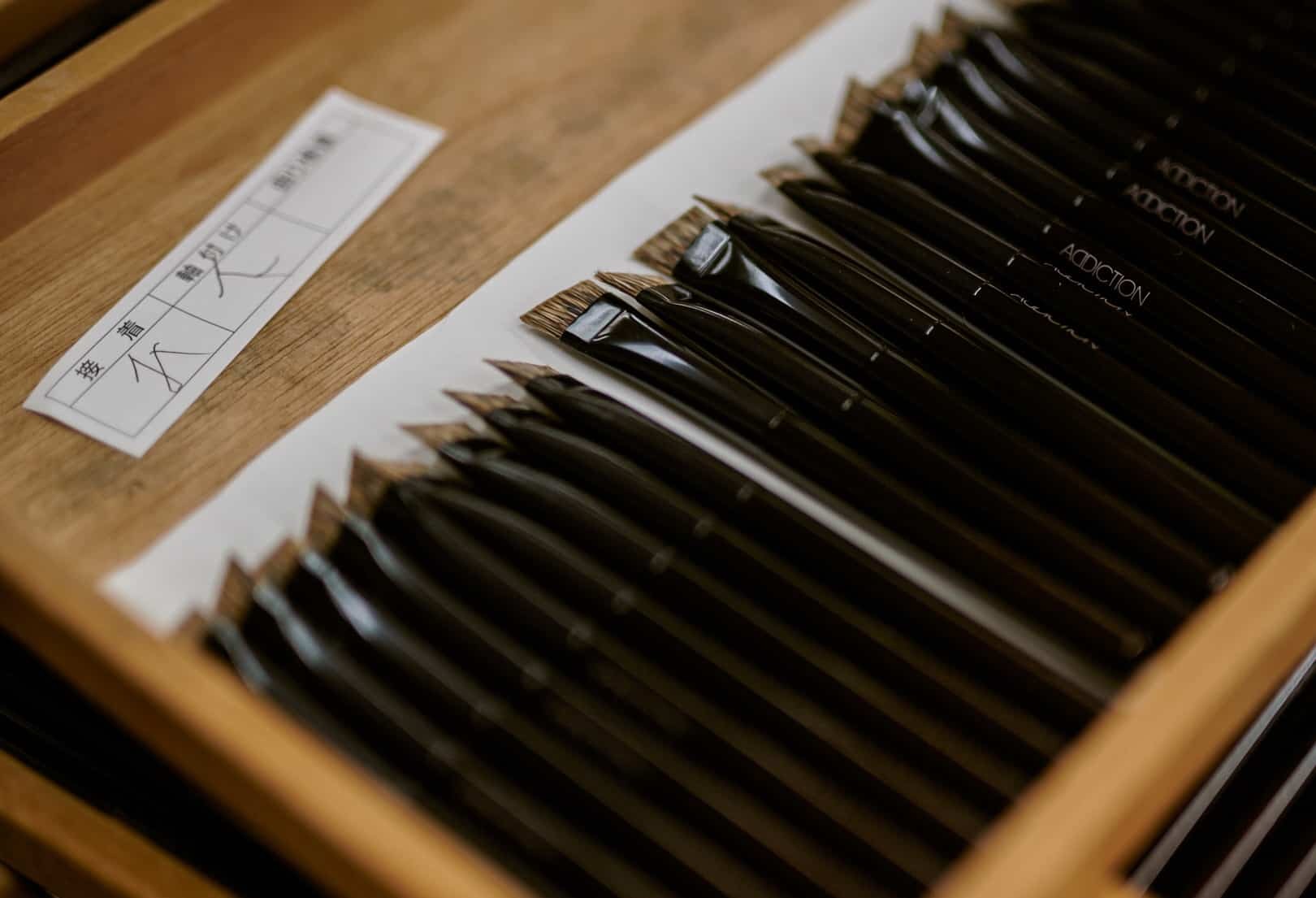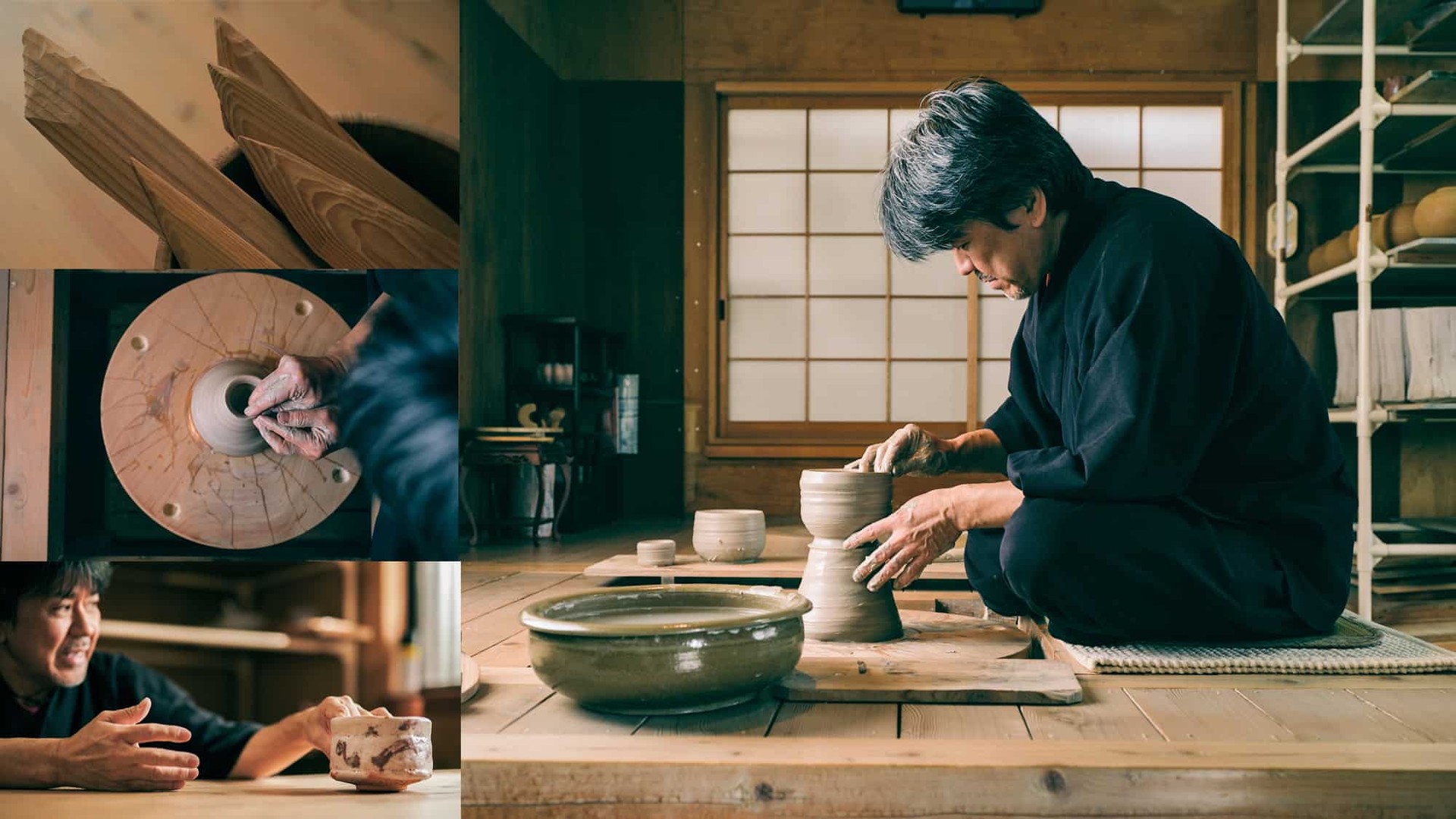 Kuugen Arimoto: ceramic artistry
"Shino ware is soft as snow," beams Hiroshima-born and raised ceramist Kuugen Arimoto. "I had no interest in ceramics until I was 28, when I saw the soft blush of a shino tea bowl by a great master and was struck as if by lightning. To make bowls like that became my driving force." That "great master" was Arakawa Toyozo, a 20th-century potter and certified Living National Treasure in Japan. After years of relentless focus on his goal, Arimoto now enjoys solo exhibitions at Japan's most prestigious galleries.
Shino is elegant in its simplicity: it requires only rare white mogusa clay with white feldspar for glaze. Just clay, one mineral, and fire. To achieve his vision of softness, Arimoto mines and processes his own clay and feldspar. "Years ago, I happened upon a pocket of mogusa while hiking and had all 56 tons hauled back to Hiroshima, a lifetime supply."
"I want to be of service to others by creating works that bring them great joy, both here in Japan and around the world."

Kuugen Arimoto
Self-taught, Arimoto relies on trial and error and research. He prefers pushing a hand wheel to using an electric one because it allows his works to reflect his energy and emotion. To achieve the warm blush shino is known for, Arimoto fires his kiln at a low temperature for five days. He also destroys 60-80 percent of his works, keeping only the finest pieces. "I want to make work that inspires people for generations to come." Asked about his goal to create a bowl like the great master, he simply smiles and says, "That hasn't happened yet."
---
Mazda: master technicians
My host at Mazda is Chiharu Saeki, a technical engineer in the Tool and Die Production Department. In her research lab, Saeki explains Mazda's new training program. "It takes die technicians 20 years to become what we define as 'true masters' in Japan. We aim to reduce that to five years and significantly raise the skill level of our team."
Because dies translate car designs into the actual shape of each car, they are central to Mazda's values of craftsmanship, artful design, and innovation. "The quality of our cars depends on the quality of our dies, which rely on the human hand and eye."
I watch Saeki quantitatively analyze the craftsman's technique using digital motion analysis. A technician suited with 41 light markers grinds a piece of steel while a motion-capture camera measures his muscle use, body-weight distribution, exertion, posture, arm angle, and line-of-sight eye movements. His finished piece, completion time, and camera data are then compared to those of a 20-year master technician so that appropriate training adjustments can be made.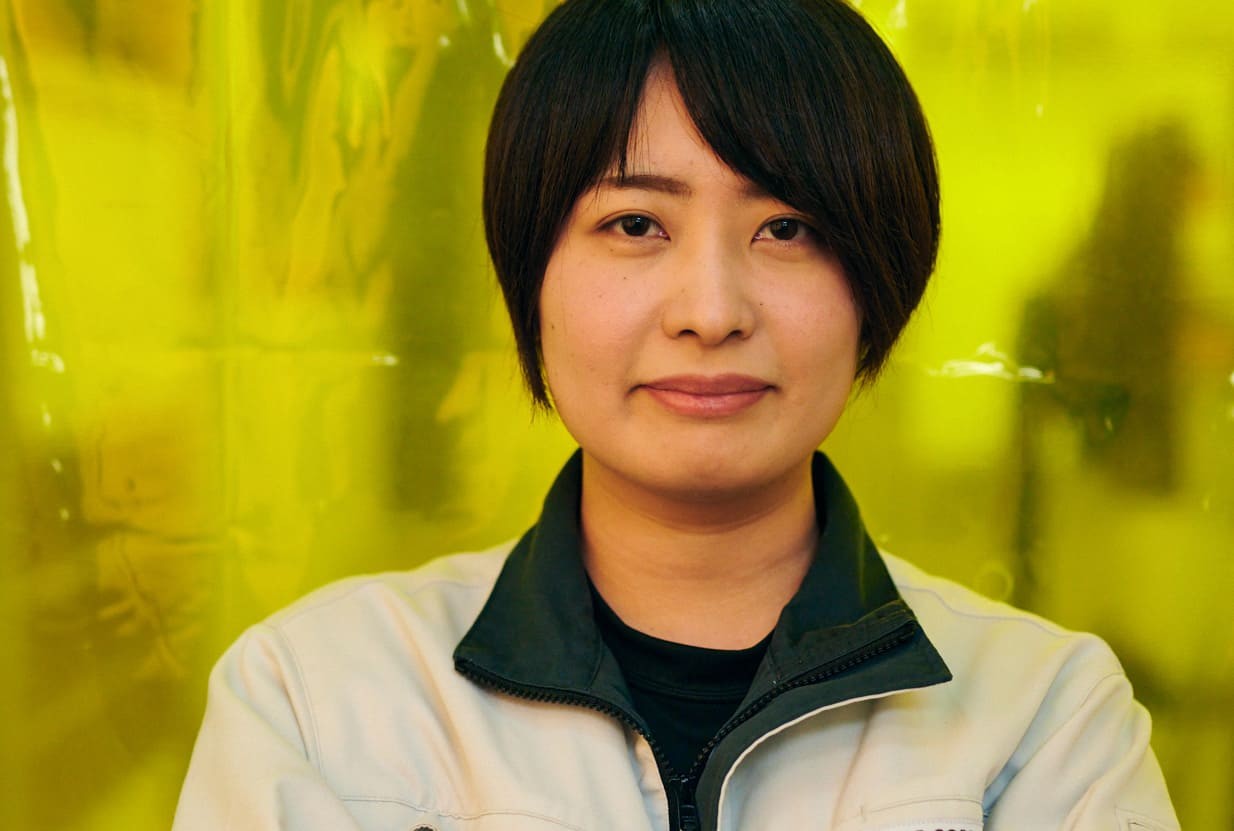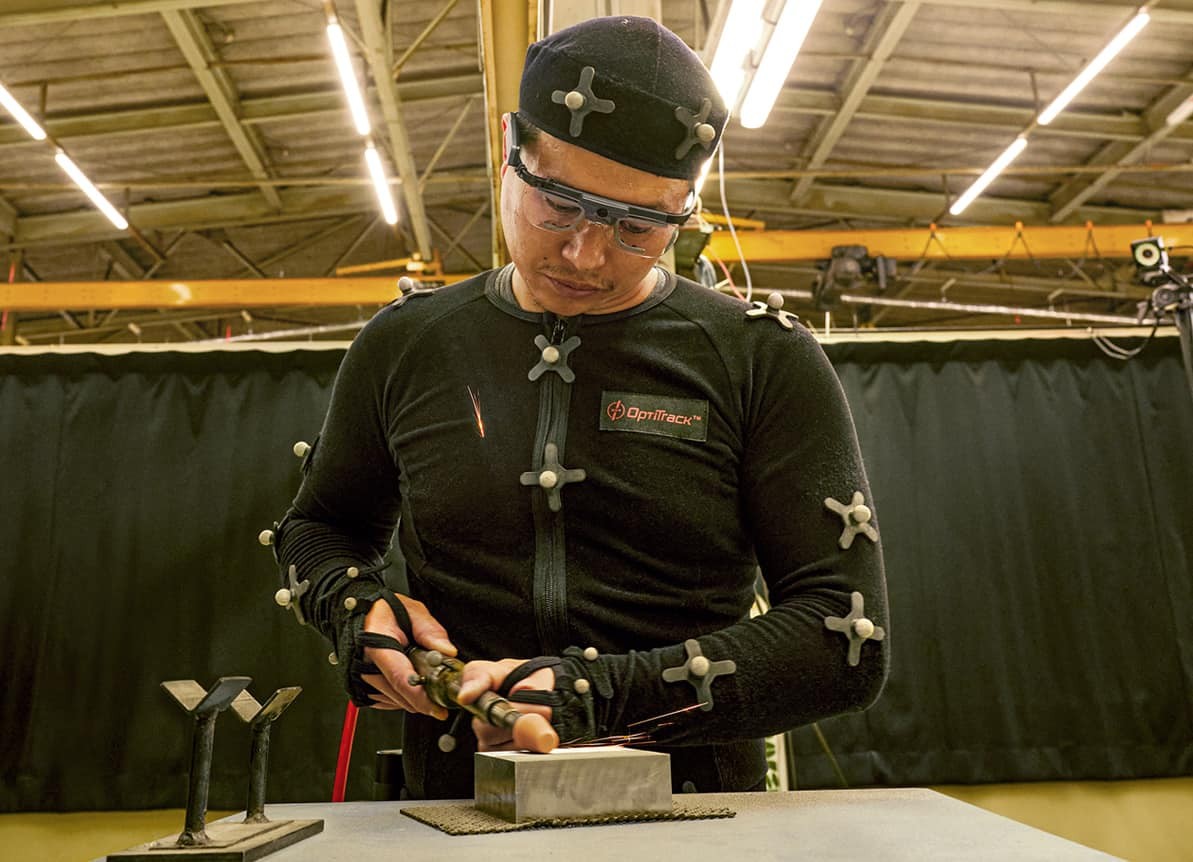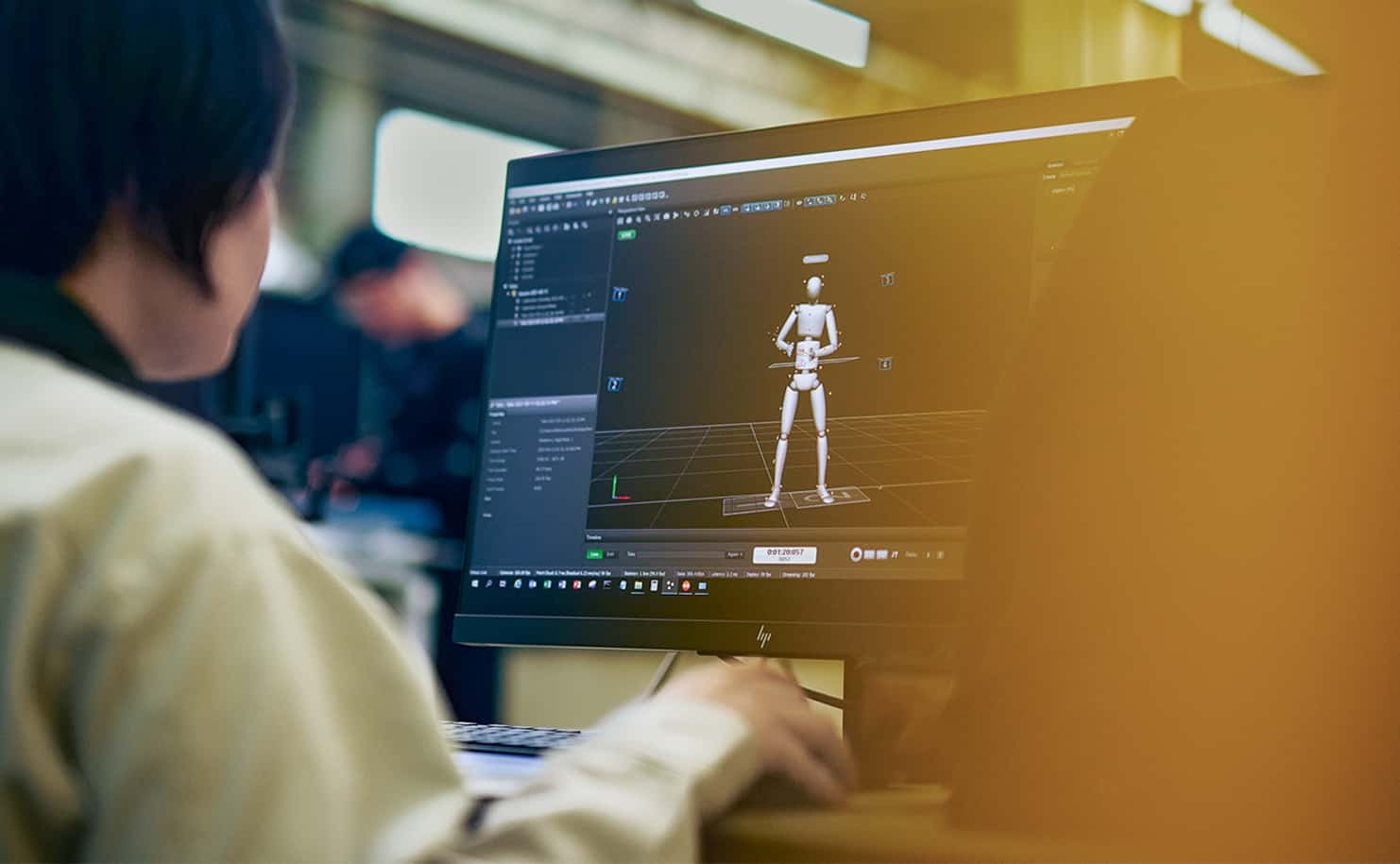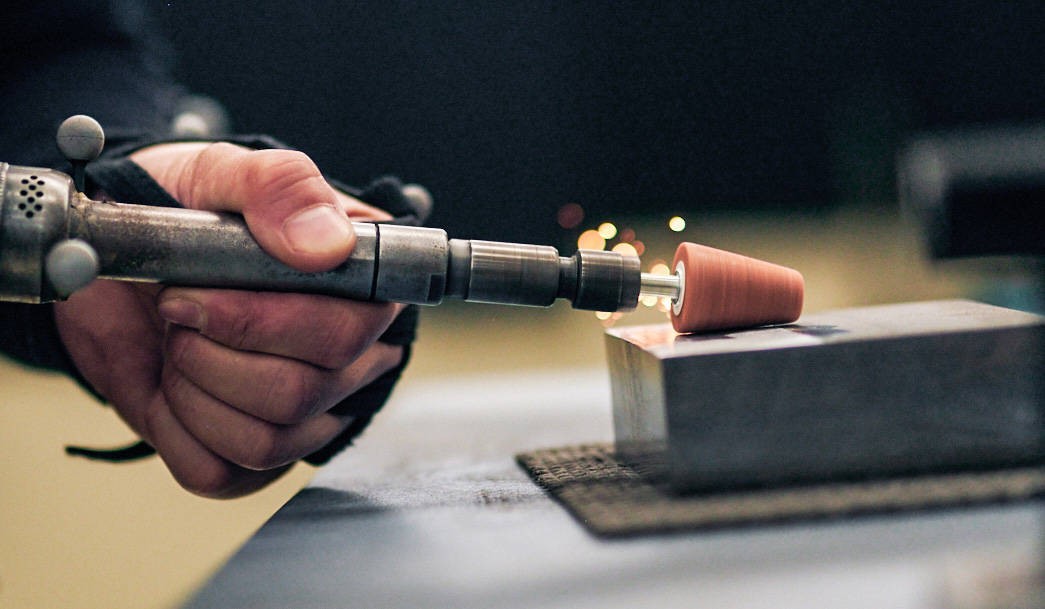 "Our mission in the Mazda Production Division is to deliver more than just a mass-produced object, but rather something rarified, beautiful and elegant."

Chiharu Saeki
Saeki tells me this training process has already reduced the 20-year master path to just ten years, while reducing the beginner/intermediate path from seven years to two. Until now, skill level was determined by the number of years of employment and the observations of supervisors. Now it is based simply on the quality of the work.
Asked what drew her to Mazda, Saeki replies, "My grandfather was a carpenter. In our home we respected and admired craftspeople. That same spirit moves me to support the highest craftsmanship to faithfully execute 'soul of motion' design in each car we produce. At Mazda, a car is not just a simple lump of steel, but rather a kind of aesthetic work with a feeling of vitality, of being alive."
---
Words Steve Beimel / Images Eric Micotto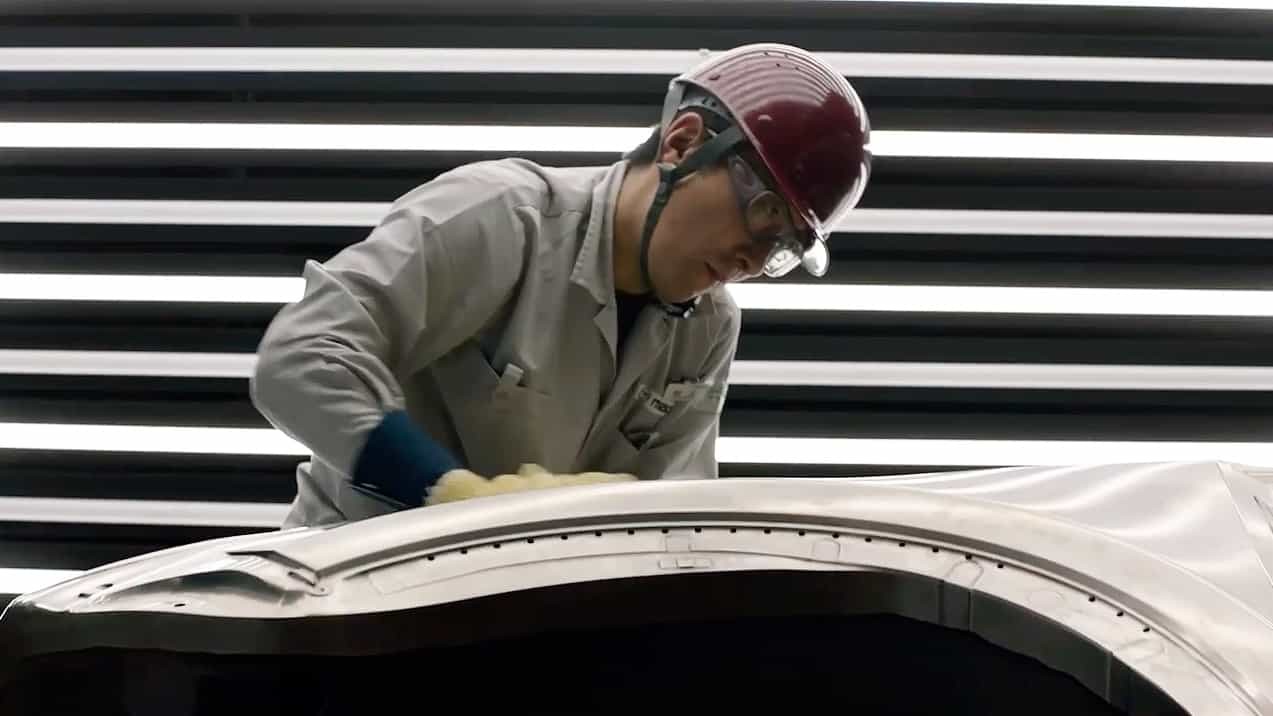 find out more
The human touch
Discover the fine craftsmanship designed and engineered into every Mazda