Textiles Coloured by Tradition
Dedication and passion are woven into the fabric of Japan's textile heritage, with natural ingredients serving as a source of inspiration for colour and form. Learn how a new generation of artisans are putting their own spin on tradition.
Japan has a long and vibrant history of textile arts, with each region developing its own particular style. While materials and techniques may vary, respect for the past and a dedication to excellence are the common threads that continue to run through Japan's textile traditions.
Textile production not only provided clothes and items for daily use, but also often became a valuable source of income for the entire community. People utilized natural materials that were eco-friendly, harmless to humans and readily available and each gave rise to distinctive characteristics that eventually became symbols of their region. One example is the safflower, or benibana, which, for several centuries, has been an integral part of the textile culture of Yamagata prefecture, in northern Japan. Grown as a cash crop, the flowers have long been prized for the crimson dye that can be extracted from their petals and are still used by a number of artisans today.
To achieve bright, vibrant colours, Hi-Color Handworks uses marigold flowers to create a radiant yellow.

(Images courtesy of Hi-Color Handworks)
Once indigo leaves are harvested, they are fermented using only water and air.
Takuya Shoji uses the organic indigo dye to add a wash of colour to a pair of formal shoes.
In Tokushima, the prefecture has become synonymous with the art of indigo dyeing (aizome), which is believed to date back around 800 years. Part of Shikoku, the smallest of Japan's four main islands, Tokushima is blessed with an abundance of water and fertile soil that make it ideal for cultivating indigo plants. Affectionately known as Japan blue, indigo's rich hue was even incorporated into the logo for the Tokyo 2020 Olympics and Paralympics.
As with Yamagata's safflower, the demand for indigo dye in textile production declined in the 20th century as cheaper synthetic alternatives became available. However, growing interest in traditional techniques, natural ingredients and sustainable practices have helped to raise the profile of Japan's organic textile colours again in recent years. A new generation of artisans are applying contemporary aesthetics to time-honoured techniques in exciting ways.
"We are committed to creating a fusion of the past and the present."

Takuya Shoji, FOUNDER, HI-COLOR HANDWORKS
Takuya Shoji of Hi-Color Handworks is among those who have taken up the mantle, bringing organic textile colours into a new age. Based in the Kaifu district of Tokushima, Shoji and his small team produce a range of organic dyes, including their own indigo grown without chemicals or pesticides.
"The main ingredient for our fabric dyes is indigo blue, along with yellow (from marigolds), red (from the roots of the madder plant) and brown (from mud)," he explains. "These four are used in combination to create the base colour. After dyeing with marigold yellow, lighter indigo can also be layered in, creating green."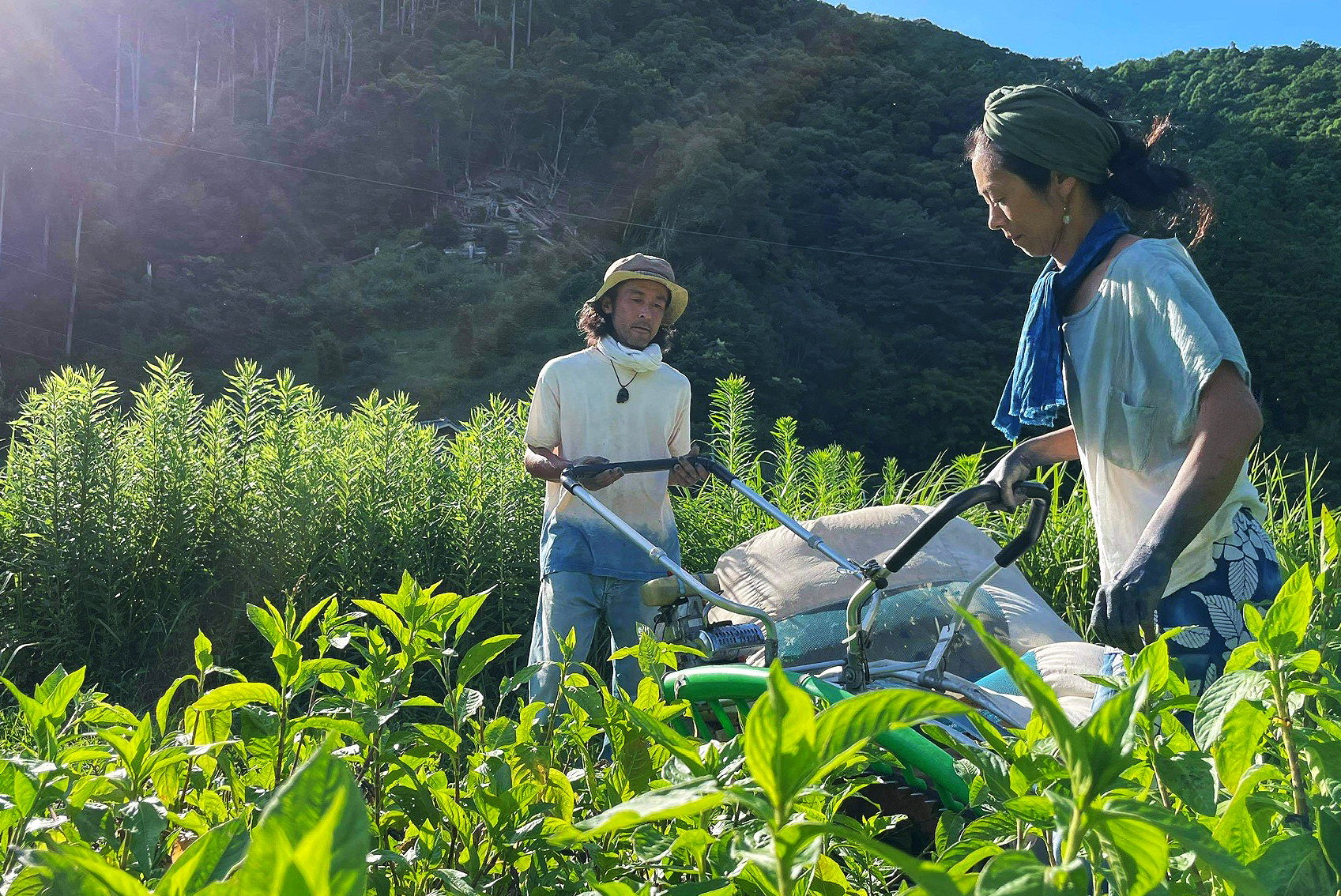 Shoji came to his craft after the birth of his son, who had severe atopic dermatitis. He is committed to creating clothes that are both a joy to wear and in harmony with nature. The dyeing process involves rinsing the fabric multiple times, and Shoji utilizes groundwater from the river near his workshop for this step.
In today's world of fast fashion and instant gratification, Shoji advocates for a culture of appreciation for the fermenting of ideas and processes, pointing out that many of Japan's traditional techniques take time to reach fruition. "Consider Japanese fermentation culture, for example: it takes around six months to produce miso and soy sauce," he says. "Similarly, after harvesting and drying, we ferment our indigo leaves for three months using only water and air, continuously turning them to increase the number of microorganisms."
The work of Shoji and his fellow textile artisans is imbued with superb craftsmanship and a healthy respect for tradition, but their creations are not intended only for special occasions or as display pieces. On the contrary, they are made to be used and enjoyed as part of the fabric of everyday life. "At Hi-Color Handworks we are committed to creating a fusion of the past and the present," says Shoji. "I want to create designs with an appeal that grows over time."
"Tradition is not only a thing of the past; it also evolves in the present."

Hiroyuki (Hiro) Murase, FOUNDER, SUZUSAN
This commitment to honouring the past while seeking innovation aligns with Mazda's design philosophy. Guided by an enduring spirit that links back to the rebuilding of Mazda's home city of Hiroshima, the company's designers blur the boundaries between form and function with precision techniques. These values were exemplified during a recent event between Mazda Motor Europe and Suzusan, a Japanese textile and design firm with offices in Nagoya, Tokyo and Germany. The collaborative session saw the two Japanese companies discuss the shared value of using Yohaku (empty space) and seeking inspiration from nature.
Much like the talented Takumi of Mazda, who work hands-on with various materials including metal and clay, Suzusan passionately crafts every single piece by hand. It's premium quality with human nature at its heart, a philosophy similar to Mazda's own development of Takuminuri paint technology. This cutting-edge innovation replicates traditional techniques by using various data points from Mazda's best craftspeople to effectively teach painting robots to paint with a more human touch, giving mass-production vehicles a precise, high-quality and hand-sprayed finish. It can be seen across Mazda's Artisan Red Premium, Soul Red Crystal and Rhodium White Premium body colours.
At Suzusan's helm is Hiroyuki (Hiro) Murase, whose family have been engaged in shibori tie-dyeing for five generations in the town of Arimatsu, Aichi prefecture. Since starting Suzusan in 2008, Murase has successfully brought his modern take on these traditional techniques to the world stage.
Japanese textile and design firm Suzusan has been using shibori tie-dyeing for five generations.

(Images courtesy of Suzusan)
Suzusan has been lauded for introducing a modern take on these traditional techniques to the world stage.
The products fuse vibrant, modern designs with traditional methods.
Now based in Dusseldorf in Germany, Murase appreciated the opportunity to work with the multinational design team at Mazda Motor Europe. A shared passion for seeking beauty in design also offered an opportunity to reflect on how international interest is helping to elevate Japan's craft heritage.
"The discussion about the meaning and essence of Japanese handcrafts is creating new traditions," says Murase. "In a sense, it is expanding the scope to include conversations that would not have occurred just with the input of Japanese people. Tradition is not only a thing of the past; it evolves in the present and continues into the future."
---
Words Louise George Kittaka
find out more
Driving for perfection